Home > All about absinthe > Under her wings: Green Fairy's poetic revolt
Showing all messages (6) posted to:

-- By Jonas in London on Fri, 30 Mar 2007 at 13:17.
Rimbaud and Verlaine's absinthe induced state of decay is portrayed in Total Eclipse, a play written in 1967 by Christopher Hampton. There is a production currently at Menier Chocolate Factory, 53 Southwark Street, London SE1
Message edited by Jamie (admin)
Thanks Jonas!
Here is the website of Menier Chocolate Factory.
The Box Office number is 020 7907 7060.
Performances:
Tues - Sat @ 8pm
Sat & Sun @ 3.30pm
This is what they say about Total Eclipse:
"Total Eclipse is the story of renowned 19th century French poets Arthur Rimbaud and Paul Verlaine, who endured a passionate and volatile relationship that has inspired generations of artists from Picasso and TS Eliot to Jim Morrison and Bob Dylan."
-- By nemoforone in nemoforone on Tue, 3 Apr 2007 at 17:12.
What about the possibility of pulling out of Iraq, letting Iran invade and lose resources fighting their own kind,
and then come in and mop up the dregs?
-- By matt in nowhere special on Sat, 7 Apr 2007 at 20:05.
nemoforone, is that a green fairy inspired thought?

how much did you drink before you came up with such a profound idea?
i just finished reading Rimbaud's biography by Graham Robb:
http://www.amazon.co.uk/Rimbaud-Graham-Robb/dp/0330488031
superb!
Marilyn Manson: Modern Absinthe Lover
-- By Paul in MN on Sat, 23 Jun 2007 at 23:44.
According to a recent article in SPIN magazine, the goth rocker Marilyn Manson loves absinthe. He was interviewed by writer Jonathan Ames, and during the course of the interview, the two men enjoyed multiple glasses of absinthe. The beginning of the article can be read at http://www.spin.com/features/magazine/covers/2007/05/0706_manson/
Although the entire article isn't available online, fishbowlNY has a summary of the main points covered throughout the interview. This summary can be found at http://www.mediabistro.com/fishbowlny/magazines/jonathan_ames_drinks_absinthe_does_coke_with_marilyn_manson_60343.asp
In relation to this web site, the most interesting point of the summary is that a German distillery is developing a Manson-branded absinthe. This new absinthe is expected to be called none other than Mansinthe.
It will be interesting to see if this new absinthe ever comes into existence, and if so, how well will it be received by absinthe lovers around the world?
-- By BSE in Scotland on Fri, 5 Oct 2007 at 12:36.
Does anyone know where this quote (mentioned on this page) is from?
"When the poet's pain is soothed by a liquid jewel held in the sacred chalice, upon which rests the pierced spoon, the crystal sweetness, icy streams trickle down. The darkest forest melts into an open meadow. Waves of green seduce. Sanity surrendered, the soul spirals toward the murky depths, wherin lies the beautiful madness - absinthe."
Is it from one of Rimbaud' s letters?
-- By rtyuiop in wrrtfv on Thu, 16 Mar 2017 at 21:01.
ryuopsghmombnv
Copyright © 2006 AbsintheFever.com Contributors.
All Rights Reserved.
The Green Fairy was no stranger to Arthur Rimbaud, the 'first punk poet'. Rimbaud was a notorious rule-breaker; both his poetry and his lifestyle defied the conventions of his time.

About Rimbaud the rebel and other Green Fairy poets
Want to know more about Rimbaud? Here is one great Arthur Rimbaud site. In English and French, this is perhaps the most comprehensive online resource about the poet. Biography, poems, letters, pictures and much more. Recommended.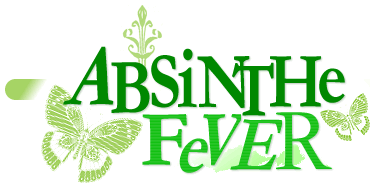 Questions about absinthe answered... plus open forum.
How do I drink absinthe?
What is "La Louche" ritual?
What is an absinthe fountain?

The freedom-loving Green Fairy...
Goddess of rebel poets & artists


in France and beyond
P_/green-fairy/rimbaud/forum/post Rimbaud the rebel and other Green Fairy poets