Home > All about absinthe > Under her wings: Green Fairy's poetic revolt
Showing message 4 of 6 posted to:
Marilyn Manson: Modern Absinthe Lover
-- By Paul in MN on Sat, 23 Jun 2007 at 23:44.
According to a recent article in SPIN magazine, the goth rocker Marilyn Manson loves absinthe. He was interviewed by writer Jonathan Ames, and during the course of the interview, the two men enjoyed multiple glasses of absinthe. The beginning of the article can be read at http://www.spin.com/features/magazine/covers/2007/05/0706_manson/
Although the entire article isn't available online, fishbowlNY has a summary of the main points covered throughout the interview. This summary can be found at http://www.mediabistro.com/fishbowlny/magazines/jonathan_ames_drinks_absinthe_does_coke_with_marilyn_manson_60343.asp
In relation to this web site, the most interesting point of the summary is that a German distillery is developing a Manson-branded absinthe. This new absinthe is expected to be called none other than Mansinthe.
It will be interesting to see if this new absinthe ever comes into existence, and if so, how well will it be received by absinthe lovers around the world?

Show all messages (6) posted to
the "Under her wings: Green Fairy's poetic revolt" page
Copyright © 2006 AbsintheFever.com Contributors.
All Rights Reserved.
The Green Fairy was no stranger to Arthur Rimbaud, the 'first punk poet'. Rimbaud was a notorious rule-breaker; both his poetry and his lifestyle defied the conventions of his time.

About Rimbaud the rebel and other Green Fairy poets
Want to know more about Rimbaud? Here is one great Arthur Rimbaud site. In English and French, this is perhaps the most comprehensive online resource about the poet. Biography, poems, letters, pictures and much more. Recommended.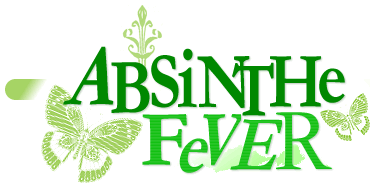 Questions about absinthe answered... plus open forum.
How do I drink absinthe?
What is "La Louche" ritual?
What is an absinthe fountain?

The freedom-loving Green Fairy...
Goddess of rebel poets & artists


in France and beyond
P_/green-fairy/rimbaud/forum/post Rimbaud the rebel and other Green Fairy poets