Home > All about absinthe > Thujone
Showing message 9 of 14 posted to:
EVERYTHING IS A POISON AND WE ARE THE FILTERS!!!
-- By C3 in U.S.A-PA. on Thu, 20 Sep 2012 at 12:34.
EVERYTHING on this planet is poisonous to some degree;....and Human Beings filter EVERYTHING We eat;drink,and breath throughout life. From The Moment We Are Born;....We Are All Slowly Dying!---So; enjoy Life to it's fullest extent.....................take EVERYTHING IN MODERATION,...and you'll be just fine.

Show all messages (14) posted to
the "Thujone" page
Copyright © 2006 AbsintheFever.com Contributors.
All Rights Reserved.
Thujone is found in a variety of common plants and herbs. In absinthe, thujone comes from wormwood (pictured), the wild-growing perennial that is especially rich in the substance. (Photo: H. Kress)

About thujone
The Wikipedia entry on thujone gives an overview of the substance's chemical composition and pharmacology. Also includes a brief discussion of thujone content in absinthe (modern and pre-ban).
Vivienne Baillie Gerritsen, writing for the Swiss Institute of Bioinformatics in 2005, isn't too thrilled by the Green Fairy's comeback. A scientific analysis of the effect of thujone, or a modern-day anti-absinthe rant? You decide.
Should you care to know that the substance's formal chemical name is "1-isopropyl-4-methylbicyclo[3.1.0] hexan-3-one", then the geeky 3Dchem's interactive 3-D model of the thujone molecule is a toy you'll like. Unfortunately, the associated article contains quite a few factual errors.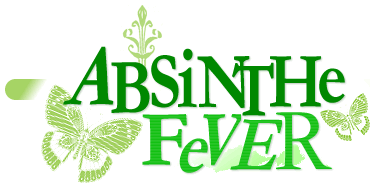 Questions about absinthe answered... plus open forum.
How do I drink absinthe?
What is "La Louche" ritual?
What is an absinthe fountain?

The freedom-loving Green Fairy...
Goddess of rebel poets & artists


in France and beyond
P_/thujone/forum/post thujone