Home > All about absinthe > The history of absinthe
Showing message 2 of 14 posted to:
No Title
-- By Steve in Unspecified location on Sat, 23 Jun 2007 at 22:11.
I was browsing around some other web sites and found a link to Wikipedia's article on absinthe history and noticed something interesting:
"Ordinaire's recipe was passed on to the Henriod sisters of Couvet, who sold absinthe as a medicinal elixir. In fact, by other accounts, the Henriod sisters may have already been making the elixir before Ordinaire's arrival."
I'm in no way going against the article you have posted because it falls exactly in line with all the other accounts of absinthe history that I have read, but I thought you might want to add it as a footnote on the page. I'm sure it would make for good conversation among all the hard-nose absinthe enthusiasts that frequent your web site!
Even though I've stopped by several times, this is my first time to actually contribute anything (but hopefully it won't be my last). Keep up the great work, and I'm looking forward to reading any new content you add about the Green Fairy.

Show all messages (14) posted to
the "The history of absinthe" page
Copyright © 2006 AbsintheFever.com Contributors.
All Rights Reserved.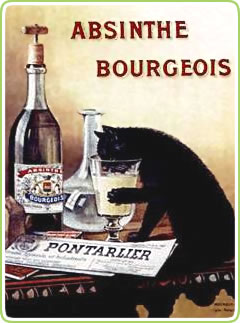 The history of the absinthe drink is as fascinating as the taste of the emerald green liquor. This promotional poster for Absinthe Bourgeois is from the age of the first absinthe fever.

About absinthe's history
No related resources regarding absinthe's history are currently available.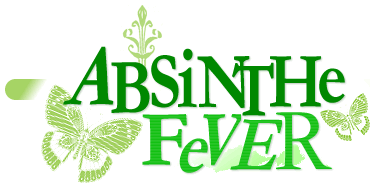 Questions about absinthe answered... plus open forum.
How do I drink absinthe?
What is "La Louche" ritual?
What is an absinthe fountain?

The freedom-loving Green Fairy...
Goddess of rebel poets & artists


in France and beyond
P_/absinthe/history/forum/post absinthe's history