Home > All about absinthe > What is an absinthe fountain?
Showing message 2 of 7 posted to:
Absinthe Fountains...
-- By Jorge in Mexico on Wed, 4 Jul 2007 at 01:17.
Before I had ever even heard of absinthe fountains, I had already danced with the Green Fairy several times. The majority of the times that I drank absinthe were in social situations, but I had also tried it by myself on a quiet evening (so that I could fully tap into its creative properties).
Anyways, after my personal time with the Green Fairy, I attended another party that featured absinthe as the drink of choice. However, this time the host also had an absinthe fountain. I have to admit that of all my experiences with absinthe, this evening turned out to be the most enjoyable, and in my humble opinion, the absinthe fountain was the reason for this. I think it's because the absinthe fountain really multiplies the social feelings that are brought on by absinthe. Not only does the fountain look great, but it gives everyone an area to converge on, socialize and imbibe the magical green drink together!

Show all messages (7) posted to
the "What is an absinthe fountain?" page
Copyright © 2006 AbsintheFever.com Contributors.
All Rights Reserved.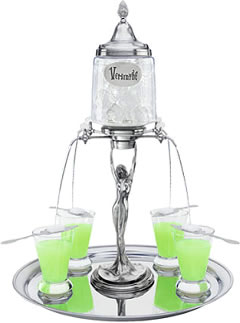 Absinthe fountains come in many shapes and sizes, but they all perform the same function: they deliver a drizzle of ice-cold water into a glass of absinthe. This dilutes the alcohol-rich drink and liberates the all-important herbal ingredients.

About absinthe fountains
The Virtual Absinthe Museum has pictures of vintage absinthe fountains, as well as a rare nineteenth-century postcard that shows French country folk using a fountain as they enjoy L'Heure Verte - the "Green Hour".
Close-up photos of a replica fountain can be seen on Vive La France Online - a New Orleans shop that sells this and other essentials for the modern-day absintheur: glasses, spoons, sugar holders... Obviously, they do not stock the drink itself.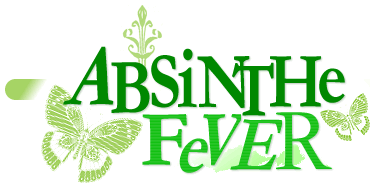 Questions about absinthe answered... plus open forum.
How do I drink absinthe?
What is "La Louche" ritual?
What is an absinthe fountain?

The freedom-loving Green Fairy...
Goddess of rebel poets & artists


in France and beyond
P_/absinthe/fountain/forum/post absinthe fountains