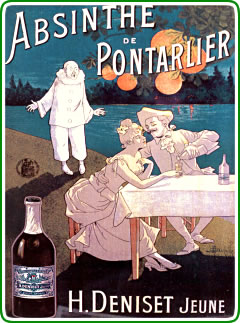 Romantic absinthe? Serving your partner a few shots of scotch isn't likely to impress - but how about taking the Green Fairy along for the date? This turn-of-the-century poster is by H. Deniset, a Pontarlier distillery. (Picture: Musee de Pontarlier)

How do I drink absinthe?
What is "La Louche" ritual?
What is an absinthe fountain?

The freedom-loving Green Fairy...
Goddess of rebel poets & artists


in France and beyond
Home > All about absinthe > Absinthe an aphrodisiac?
Posting a new message to:
Questions about absinthe answered... plus open forum.
Copyright © 2006 AbsintheFever.com Contributors.
All Rights Reserved.
R_/absinthe/aphrodisiac/forum#6 the alleged aphrodisiac powers of the absinthe drink