Home > All about absinthe > Is absinthe strong in alcohol?
Showing all messages (23) posted to:
-- By Kos in Helsinki, Finland on Tue, 27 Mar 2007 at 07:15.
The alcohol level is sure very high. That means that absinthe is like 136% proof? I know what it means about the alcohol being kind of hidden behind the flavour. I tried some French absinthe with water / sugar and felt very weird and spacey. Not sure if it was just the alcohol though..
-- By Leo in Unspecified location on Tue, 27 Mar 2007 at 16:47.
If the alcohol in absinthe is too strong for the taste then I advise to make an absinthe cocktail. A nice thing in summer with crushed ice and very refreshing...will make you forget about the alcohol in the absinthe....

..and enjoy the drink
Alcohol and Thujone in Absinthe
-- By John Oliver in Devon on Sun, 1 Apr 2007 at 07:57.
Yep, everybody tends to forget that absinthe is a high proof alcoholic beverage. The herbal flavour, and the chilled water, actually tend to mask the alcohol in real absinthe. In years gone by thujone was blamed for having an alleged pyshoactive effect. It is now thought that this is unlikely to be the case.
What are we left with? a refreshing high alcohol drink that will make you real drunk. What sets real absinthe apart - from say bourbon - is that you don't realise this as you drink it.
-- By Max The Juice in Miami, Florida, US on Mon, 2 Apr 2007 at 05:42.
That buzz that happens when you sink a sinthe (drink absinthe

..comes from the combo of herbs not alcohol.. Was wondering if different recipes have different effects. How the absinthe is created is going to determine how the herbs react in the alcohol. French absinthe has no fennel and the Swiss absinthe is white, so no wormwood i guess.
Teen jailed for absinthe fuelled stabbing
-- By Eric in England on Thu, 12 Apr 2007 at 08:34.
NEWS.COM.AU
By Jade Bilowol
April 03, 2007 06:17pm
A young man has been sentenced to four years' jail for stabbing a parent seven times at a party he gatecrashed while under the influence of absinthe.
Daniel Thomas Kingdon, 19, of Brisbane, today pleaded guilty to one count each of grievous bodily harm, assault occasioning bodily harm in company and assault occasioning bodily harm while armed in company on February 25, 2006.
...
Kingdon's defence lawyer said his client had been under the influence of absinthe - a strong liqueur once banned in many Western countries - at the time of the offence.
Full story at http://www.news.com.au/story/0,23599,21498668-1702,00.html
-- By Artimus in US on Wed, 22 Aug 2007 at 06:13.
I have had good experiences with all absinthe. I have tried many many different kinds....French, Italian, Austrian, hungarian, czech, Spanish, etc. I liked them all in their own unique way. Some better than others. There is nothing about them that would make you go mad or go on a murderous rampage. It is a shame that this delightful beverage is associated with such BS. For Morons like the last story of "Teen jailed for absinthe fuelled stabbing" .......hopefully we can put the blame where it is well deserved, away from a decadent beverage and more into the scope of the person being mentally ill to begin with, or being the subject of constant child molestation. Or a serious phallic issue.....with a name like "KINGDON" you'd expect a huge prick, and he probably couldn't deliver, someone called him out and bad things happened.....Absinthe was just an innocent victim in a penile hate crime.
-- By alan in liverpool england on Thu, 1 Nov 2007 at 18:19.
I WAS OUT THE OTHER NIGHT AND WAS ALREADY QUITE DRUNK,WHEN A FELLOW REVELLER AND I HAD 5 SHOTS OF ABSINTH AND 2 RED AFTERSHOCKS.MY FRIEND WAS TAKEN HOME 2O MINS LATER PARALETIC,I SURVIVED FOR ABOUT 1 HOUR FREQUENTLY FALLING BEFORE BEING ESCORTED HOME WERE I VOMITTED REPEATEDLY AND WOKE ON HALL FLOOR HAVING SHIT MYSELF .SO I PERSONALLY DONT LIKE ABSINTH .
-- By narvenlyAreta in narvenlyAreta on Sun, 9 Mar 2008 at 04:15.
I can upload this pic as an avatar? Size is not big! I think it should work? Some help please?
<a href=googlehlp.com/photo.jpg/>Me in San Francisco2008</a>
-- By Anonymous in Unspecified location on Thu, 14 Oct 2010 at 15:17.
fhtgh
-- By Anonymous in Unspecified location on Thu, 14 Oct 2010 at 15:19.
sdfsdffdsf
-- By JON WHITE in GEELONG VICTORIA on Mon, 5 Sep 2011 at 11:15.
I AM A STRONG VIEW THAT DRINKING HEVALY CAUSES BRAIN TEMUIORS OR WORST
SO FOR A FEW MONTHS I AM NOT GOING TO DRINK ACHAHOL JUST PRIMAS ONLY FOR A MONTH I AGREE PEOPLE WILL FEEL BETTER FOR IT
Real alcohol content of absinthe
-- By Dan in USA on Thu, 26 Jan 2012 at 06:10.
For those of you who freak out at absinthe's high (50%-70%) alcohol content, you should know that when diluted with ice water, it's not as severe.
Think about it: To drink absinthe properly, you dilute 1oz of absinthe with 3oz of water. In doing so, that 62% (for Pacifique, one of my favorites!) now goes down to 15.5% alcohol content. That's roughly the same as a glass of wine.
Drink it in MODERATION like you would wine or saké, and there are no effects other than that wonderful flavor!
WHAT MAKES MORE SENSE??????????????/
-- By C3 in U.S.A-PA. on Thu, 20 Sep 2012 at 13:04.
What; in Your Own Humble Opinion.......makes more intellectual sense??? Consuming an alcoholic drink which "clouds;confuses and contaminates the mind" OR an alcoholic drink which "cleanses;clarifies and concentrates the mind" after two or three glasses?!?!---"STUPIFYCATION WITHOUT THE STUPIDITY"!!! (Absinthe---The "Dumb-Free" Drunk!)
-- By Damon in Wichita Ks USA on Fri, 30 Nov 2012 at 05:46.
I'm looking for a direct distributor. I recently came across an image of this beautiful bottle & the gift box it's packaged in. (whew) I love it's near cognac like color & again...the uniqueness of the bottle. I've made purchases abroad and recieved shipments of several other brands of Absinthe. I would certainly like to add this beverage to my list.
-- By Wayne Walker in Wisconsin on Sat, 16 Mar 2013 at 01:36.
In New Orleans had a drink made just right with the
Absinth dribbled over a sugar cube, lite on fire and
then put out over it with a drizzle of water until the
flame was out. The drink was out of this world and to
me tasted like licorice.
-- By th macs in new jersey, USA on Sat, 1 Nov 2014 at 02:27.
Tried absinthe for the first time at Sarah B. Bar at the Intercontinental Hotel in Montreal. Bloody good, fun buzz. Not at all like other beverages . Great fun!

-- By th macs in new jersey, USA on Sat, 1 Nov 2014 at 02:28.
Tried absinthe for the first time at Sarah B. Bar at the Intercontinental Hotel in Montreal. Bloody good!
Not at all like other beverages . Great fun!

-- By tj macs in New Jersey, USA on Sat, 1 Nov 2014 at 02:29.
Tried absinthe for the first time at Sarah B. Bar at the Intercontinental Hotel in Montreal. Bloody good!
Not at all like other beverages . Great fun!

-- By MOHAMED ELMARAKBY in EGYPT / CAIRO on Tue, 16 Dec 2014 at 05:18.
I TASTED IT AND IT WAS A GOOD TAST THEN I LOVE IT
-- By Gypsy in San Fransisco on Fri, 9 Oct 2015 at 11:19.
I have been wanting to try absinthe since I hear about it years. The opportunity never arrived until I was spending a week in paris in 2007. Both my travel mates crashed early but I was keenly aware that Paris was right outside the hotel door and it was calling to me. Never afraid, I, to go anywhere alone I walked down the quiet street. It was near 2 Am. Then I saw dim lights coming from a basement door left open to the warm Paris night. Of course I was drawn to those lights like a month to a flame. I sat at the bar where only 3 others sat with the bartender behind the bar. Music that you would expect to hear in the deep of night in Paris was coming from a radio behind the bar. I was about to order a glass of wine when I realized what I was seeing. It was the "sugar cube" ritual I had only seen in movies. Bartender a the 3 others (2 men and a woman around my age...28) were intent on watching the eater drip over the cube into the glass. The resulting liqueur was a beautiful green I have never experienced before. For a second I thought I was intruding...that is until the bartender reached behind him, brought out a glass, smiled at me and set the glass in front of me! For the next 2 hours my new friends and I drank of the "Green Fairy" Then before I realized it the sun was coming yp. That's when Dina, Marcel, Marcia and Peter (the bartender) suggested we hit the streets of Paris. We did, walking along the banks of the Seine and finally endingup at Pierre Lachine (spelling is not exact) Cemetery to visit Jim Morrison grave. All I can say is MAGICAL...all compliments of the Green Fairy. Try it! Just start out very slow the first time. I was lucky to have "guides" to take me by the hand. Happy trippin'
-- By Gypsy in San Fransisco on Fri, 9 Oct 2015 at 11:29.
That above post should have been entitled "Night in Paris." Think in about Venice tonight a lot and getting homesick for it but only lived there 6 months...drank plenty of absinthe there to...but the night in Paris I was a Green Fairy" virgin.
-- By Smitha547 in Smitha547 on Fri, 27 May 2016 at 01:12.
If you are going for best contents like myself, just pay a quick visit this web page everyday since it offers feature contents, thanks edebekcdgdfgeeca
-- By Absintheman2 in Usa on Sun, 16 Dec 2018 at 02:08.
As a maker of my own Absinthe, and no I won't divulge my recipe (sorry) that took many years to perfect, I would like to say that taste aside, there is one fundamental reason Absinthe was, and is, so very popular that most people either do not understand or have forgotten. And that is that when one drinks Absinthe they can feel the alcohol effects yet the mind is so (seemingly) clear and sharp that the alcohol effects are put aside and ones mind is apparently free of normal inhibitions and social restraints. Obviously the more Absinthe a person drinks the more free of inhibitions and social restraints the mind seems to be, yet free it is. It is akin to a cocaine high. Perhaps the 'perfected' Absinthe recipe is making a chemical similar in structure to cocaine itself, I am not sure, yet if you do real Absinthe made the correct way you will surely understand what I am talking about. If you want to get sloppy drunk and trashed you would do well to find another alcoholic drink. If you would like to experience an open, expanded, (yes) creative state of being while feeling mildly intoxicated from alcohol, then Absinthe (real, correctly made, Absinthe) is the drink for you. If you drink 1 or 2 drinks of Absinthe and don't understand what I described above you need to try another bottle of Absinthe. You will find a good one, there are many out there, that will give you the true Absinthe effect. Just know that if you read the above and can't identify with it, or it doesn't match your Absinthe experience, then you need to try another brand of Absinthe because you probably only drink flavored liquor.
Copyright © 2006 AbsintheFever.com Contributors.
All Rights Reserved.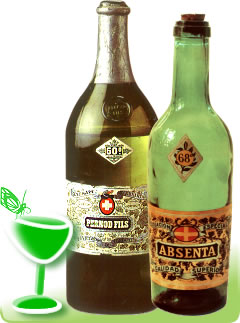 There's a lot of alcohol in absinthe, so treat the Fairy with some respect! But, it seems, alcohol is not the only thing at work in a bottle of absinthe...

About absinthe's strength, effects, alcohol content
No related resources regarding absinthe's strength, effects, alcohol content are currently available.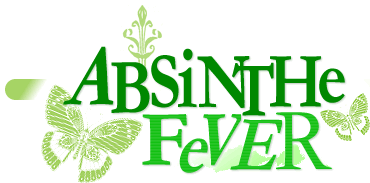 Questions about absinthe answered... plus open forum.
How do I drink absinthe?
What is "La Louche" ritual?
What is an absinthe fountain?

The freedom-loving Green Fairy...
Goddess of rebel poets & artists


in France and beyond
P_/absinthe/alcohol/forum/post absinthe's strength, effects, alcohol content