Home > All about absinthe > La Louche: The original absinthe ritual
Showing message 17 of 19 posted to:
'Adjustments' to dripper(s)
-- By Eryl III in Washington state, USA on Thu, 6 Jul 2017 at 17:34.
Having 4 traditional absinthe glasses, & procuring REAL Absinthe (at LEAST 68% A.B.V.- 136 proof), I acquired 3 very well made stainless 'drippers' (for which a spoon is not needed, as with a fountain). 3 legs support the water 'bell' which rests over the glass with it's own sugar tray below. - However, when I started 'the ritual' - pouring the (ice) water (over 1-3 ice cube(s), the center hole in the bell was too big, thus, STREAMING thru (rather than 'dripping') - hence the name (... Hellooo...), which promptly overflowed the sugar tray, spilling into the glass without properly dissolving the sugar! (use proper French sugar 'cubes'- (1 'cube' halved in a packet.) for here, they apparently can't imagine anyone desiring only HALF a cube!) ...ANYHOOT - ONWARD thru the 'Loosh' (yankee pronuncination). - The 'drippers' needed slight 'Adjustments/Improvements'. -- First I drilled the 4 outer holes in the sugar tray SLIGHTLY bigger (leave the center one alone!), - Then I 'Jetted' the center hole in the bell (like a carburetor) with a adjustable needle screw so one can regulate the Drip. NOW 'La fee Verte' won't leeme alone. (I really should check again tho...). Aahh... PERFECT! Je vous remercie!

Show all messages (19) posted to
the "La Louche: The original absinthe ritual" page
Copyright © 2006 AbsintheFever.com Contributors.
All Rights Reserved.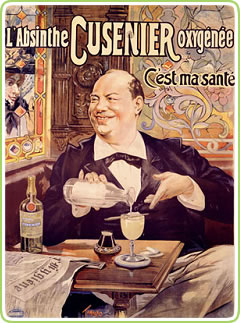 'It is healthy,' declares this classic Absinthe Cusenier poster that depicts a suitably well-fed gent performing the traditional absinthe ritual. The lady at the window is transfixed!

About the absinthe ritual
Absinthe.se is one reliable website that has a short how-to guide to the classic French ritual. They resolutely condemn (and refuse to provide instructions for) the modern-day "fire method".
Instructions for both rituals -- the traditional French one and the recent fire one -- are available at DrinkNation.com.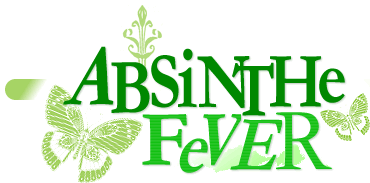 Questions about absinthe answered... plus open forum.
How do I drink absinthe?
What is "La Louche" ritual?
What is an absinthe fountain?

The freedom-loving Green Fairy...
Goddess of rebel poets & artists


in France and beyond
P_/absinthe/ritual/forum/post the absinthe ritual