Home > All about absinthe > La Louche: The original absinthe ritual
Showing message 15 of 19 posted to:
Absinthe
-- By Zen in Palmdale Ca on Sat, 18 Mar 2017 at 17:42.
Nicely written. Thank you.

Show all messages (19) posted to
the "La Louche: The original absinthe ritual" page
Copyright © 2006 AbsintheFever.com Contributors.
All Rights Reserved.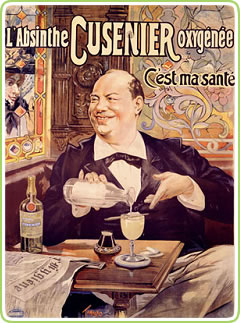 'It is healthy,' declares this classic Absinthe Cusenier poster that depicts a suitably well-fed gent performing the traditional absinthe ritual. The lady at the window is transfixed!

About the absinthe ritual
Absinthe.se is one reliable website that has a short how-to guide to the classic French ritual. They resolutely condemn (and refuse to provide instructions for) the modern-day "fire method".
Instructions for both rituals -- the traditional French one and the recent fire one -- are available at DrinkNation.com.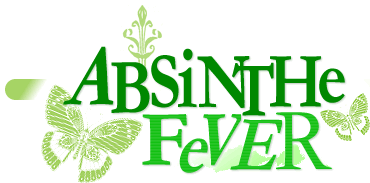 Questions about absinthe answered... plus open forum.
How do I drink absinthe?
What is "La Louche" ritual?
What is an absinthe fountain?

The freedom-loving Green Fairy...
Goddess of rebel poets & artists


in France and beyond
P_/absinthe/ritual/forum/post the absinthe ritual