Home > All about absinthe > La Louche: The original absinthe ritual
Showing message 3 of 19 posted to:
A Red Neck's review of the Louche ritual
-- By Sam Catlin in Richmond, Virginia on Fri, 23 Sep 2011 at 20:40.
I thought the Japs were the sissiest people on earth with that stupid tea ceremony, but this sucker takes first place. Move over Hirohito, here comes Jacques!

Show all messages (19) posted to
the "La Louche: The original absinthe ritual" page
Copyright © 2006 AbsintheFever.com Contributors.
All Rights Reserved.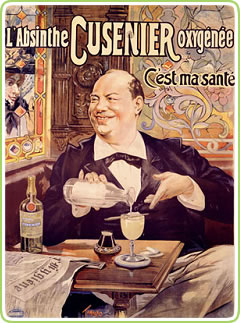 'It is healthy,' declares this classic Absinthe Cusenier poster that depicts a suitably well-fed gent performing the traditional absinthe ritual. The lady at the window is transfixed!

About the absinthe ritual
Absinthe.se is one reliable website that has a short how-to guide to the classic French ritual. They resolutely condemn (and refuse to provide instructions for) the modern-day "fire method".
Instructions for both rituals -- the traditional French one and the recent fire one -- are available at DrinkNation.com.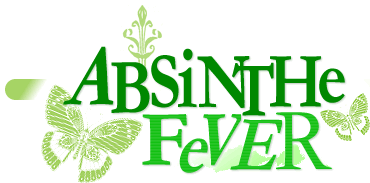 Questions about absinthe answered... plus open forum.
How do I drink absinthe?
What is "La Louche" ritual?
What is an absinthe fountain?

The freedom-loving Green Fairy...
Goddess of rebel poets & artists


in France and beyond
P_/absinthe/ritual/forum/post the absinthe ritual