Home > All about absinthe > Thujone
Showing message 2 of 14 posted to:
A different kind of Thujone...
-- By Jamie in Unspecified location on Mon, 8 Jan 2007 at 18:41.
The Absinthe Drinkers is a Philadelphia band that spawns catchy, original pop/funk/rock/whatever songs from works of literature ancient and modern. The Drinkers have funkified Baudelaire, punkified Shakespeare, and rockified a number of modern writers.
"We took the name Absinthe Drinkers when we started because it seemed we were pulling a lot of material from that period of art/literature," says Chris McDonough (vocals).
"A now regular feature in our live shows is our host Thujone, who may appear in the form of one of the following:
- Alien Thujone, Pliedian Humanologist (Abductor of Abductees)
- Doctor Thujone, Man of SCIENCE
- Monsieur Thujone, Gentleman Impressario
- Inspector Thujone, Investigator Extraordinaire
- Robot Thujone, Helper/Enslaver of Humanity"
Here are the details of the Drinkers' next show:
Tue, Jan 23rd & Thu, Jan 25th at 9pm
L'etage
Northwest corner of 6th & Bainbridge Streets,
Philadelphia
$10 at door
"Monsieur Thujone's Cabinet of Musical-Visual Curiousities"
Delights for the ears and eyes! A night of strange music, video, and theater featuring: The Absinthe Drinkers - musical-litpop-visual-whatnot. Sex? Yes! Murder? Yes! Sexy Murders? Absolutely! The Tbaggadelics - songs about drinking, monsters, and life. Mostly drinking with monsters. Mr. Dead Guy - he's scary. But Baby Cheezwits is SCARIER! DJ/VJ Ryan - pokes your eye and ear-holes with dancin' music and visuals.
Checkout the Drinkers' MySpace page for more.

Show all messages (14) posted to
the "Thujone" page
Copyright © 2006 AbsintheFever.com Contributors.
All Rights Reserved.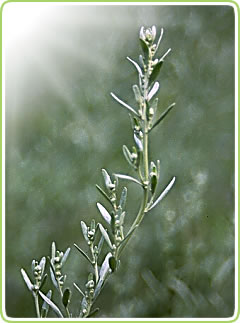 Thujone is found in a variety of common plants and herbs. In absinthe, thujone comes from wormwood (pictured), the wild-growing perennial that is especially rich in the substance. (Photo: H. Kress)

About thujone
The Wikipedia entry on thujone gives an overview of the substance's chemical composition and pharmacology. Also includes a brief discussion of thujone content in absinthe (modern and pre-ban).
Vivienne Baillie Gerritsen, writing for the Swiss Institute of Bioinformatics in 2005, isn't too thrilled by the Green Fairy's comeback. A scientific analysis of the effect of thujone, or a modern-day anti-absinthe rant? You decide.
Should you care to know that the substance's formal chemical name is "1-isopropyl-4-methylbicyclo[3.1.0] hexan-3-one", then the geeky 3Dchem's interactive 3-D model of the thujone molecule is a toy you'll like. Unfortunately, the associated article contains quite a few factual errors.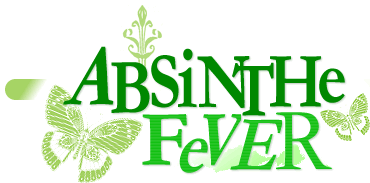 Questions about absinthe answered... plus open forum.
How do I drink absinthe?
What is "La Louche" ritual?
What is an absinthe fountain?

The freedom-loving Green Fairy...
Goddess of rebel poets & artists


in France and beyond
P_/thujone/forum/post thujone