Home > All about absinthe > The effects of absinthe
Showing message 36 of 53 posted to:
This stuff will make you well !
-- By Tammy in Spooner,WI, USA on Sat, 12 Oct 2013 at 23:34.
I have been drinking this now for about 3 years. The first time a friend of mine told me about it, I was kind
of scared to try it. He bought me a bottle and it took me 2 months to even try it. I had been in a state of depression for over a year
because my husband had died etc..... Anyway one night I decided to see what would happen. I do 1/2 shots from the bottle and at first the only thing I could find to get rid of the flavor in my mouth was a shot of mountain dew.
I also now just rinse with a swig of ice cold water or mountain dew, depending on the flavor of the bottle, because no bottle is the same, but I will say when you get a sweet bottle it is the best. I buy it at my grocery store once or twice weekly.
I drink the Absente refined version which is 110 proof and is 55% Alc/Vol-750ml size Dark green bottle.
I probably have over 400 spoons which I never used, but was going to make some sort of decor with them. So if your feeling out of sorts depressed, sick or just need some inspiration; this drink will do you a world of good. It also cleanses your kidney,liver and kills what ales you; For instance - I worked a Jack Links Beef Jerky and at work one time I got some meat in my eye when I was blowing out the packing machine and it would not go away for 2 weeks and kept getting more red every day.... I put some of this stuff in an eye dropper bottle and put it in my eye and in 15 min it was clear and white again. I WILL say though it DID burn like hell and brought me to my knees, but it was cured. Here's another instance, my buddy had a tick bite him on the ass and stayed there stuck in, well being the friend I am I cut his ass and after that poured absente on there and it burnt but it healed with no infection. Thatís just a few things this drink can do, it is not JUST for drinking. So you go head on now and ENJOY!
Thank You / Tammy Mandalke / Have a Great Day ! (

>

Show all messages (53) posted to
the "The effects of absinthe" page
Copyright © 2006 AbsintheFever.com Contributors.
All Rights Reserved.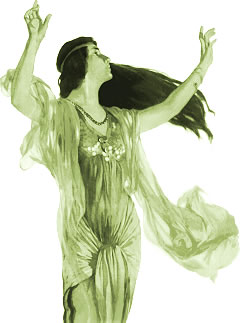 'Meeting the Green Fairy' is a metaphor sometimes used to describe the curious effects of the green liquor.

About the effects of absinthe
When it comes to the effects of drinking absinthe, people's opinions -- and experiences -- vary wildly. Some go as far as to claim the drink is psychoactive, while others say there is no "secondary" (that is, other than alcohol-induced) effect at all.
As early as 1993, Matthew Baggott posted his Absinthe FAQ in the Usenet newsgroup "alt.drugs" (there wasn't much of the web as we know it back then). As you will suspect from the newsgroup's name, the issue of absinthe's "psychoactive qualities" was one of the interests of the document.
Some people take it further still. We definitely do not recommend any experiments with Paxil and absinthe (nor, for that matter, mixing any medicine with alcohol). Anyway, it's quite clear which way the wind blows here, since Jasmine Sailing's bizarre piece more or less concludes absinthe is a narcotic. Is it really? Yup, it does read like the girl was out of her mind when she wrote the page -- and no, we don't think the Fairy was to blame!
A far more sober look at the effects of the Green Fairy can be found in "The Return of the Green Faerie", an article written by Frank Kelly Rich of the Modern Drunkard magazine (no pun intended). Recommended reading.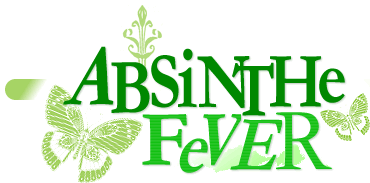 Questions about absinthe answered... plus open forum.
How do I drink absinthe?
What is "La Louche" ritual?
What is an absinthe fountain?

The freedom-loving Green Fairy...
Goddess of rebel poets & artists


in France and beyond
P_/absinthe/effects/forum/post the effects of absinthe