Home > All about absinthe > How to drink absinthe
Showing message 24 of 24 posted to:
My way
-- By James in Texas on Thu, 11 Jan 2018 at 14:42.
Back in the mid 80's, I was in college and tending bar at a high-end club/hotel on San Antonio's Riverwalk. Heavy Metal was King, and there wasn't a great deal of...civilized drinking behavior going on. It was the Age of Excess, and we (myself included) loved it.
I did get a few regulars from Europe who wanted Absinthe and they quietly brought in their own bottles- I didn't ask, as-again- it was the 80's. One of these regulars taught me the various ways to serve it, and several of them gave me Absinthe in appreciation for my service. I found that I enjoyed it like so, myself: a double shot of Absinthe in a champagne flute, with 1/2 to 1 shot of Rumple Minze. Stand a sugar cube in maraschino cherry juice (only about 1/16" deep) until it wicks it all up and turns a uniform red color. Let it set for about 2-3 minutes to do so, then drop it in and add cold sparkling water to taste- I use color to determine the proper amount of water, aiming for a sort of golden green. (This takes some experimentation)
I came up with this over about a year's time, experimenting with various ingredients. "Purists" will scoff, but give it a try, you might be surprised.
I called it "Manslaughter in the Morning", as a sort of play on "Death in the afternoon".
Enjoy!

Show all messages (24) posted to
the "How to drink absinthe" page
Copyright © 2006 AbsintheFever.com Contributors.
All Rights Reserved.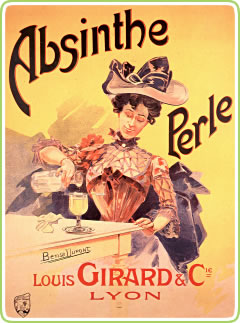 Drinking absinthe the original way: dilute with chilled water which you slowly pour into your glass over a cube of sugar. Other ways to drink absinthe were invented since the time of this classic promotional poster by Bensa-Dupont. (Picture: Bibliotheque Forney, Paris)

About the ways to drink absinthe
The Buy Absinthe .Net guide has further tips on how to make a glass of absinthe in the traditional French manner, plus some amusing pieces of trivia about the absinthe-drinking culture of the 19th century. The same page also gives recipes for a few classic absinthe cocktails you might want to try. 'Death in the Afternoon' anyone?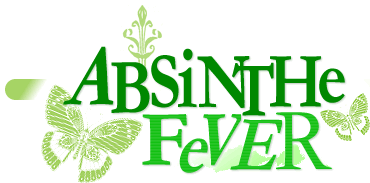 Questions about absinthe answered... plus open forum.
How do I drink absinthe?
What is "La Louche" ritual?
What is an absinthe fountain?

The freedom-loving Green Fairy...
Goddess of rebel poets & artists


in France and beyond
P_/absinthe/drink/forum/post the ways to drink absinthe