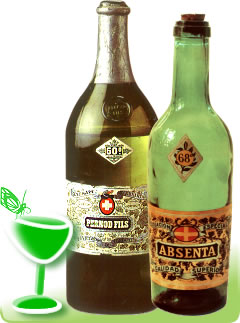 Absinthe, depending on the brand, contains up to 70% alcohol, nearly twice as much as your regular Scotch. Yet drinking absinthe apparently increases the drinker's awareness, rather than dull the senses... What's your experience?

How do I drink absinthe?
What is "La Louche" ritual?
What is an absinthe fountain?

The freedom-loving Green Fairy...
Goddess of rebel poets & artists


in France and beyond
Home > All about absinthe > Is absinthe strong in alcohol?
Posting a new message to:
Questions about absinthe answered... plus open forum.
Copyright © 2006 AbsintheFever.com Contributors.
All Rights Reserved.
R_/absinthe/alcohol/forum#23 absinthe's strength, effects, alcohol content